Market order
Enter the amount of money you would like to open a position with. The price will be executed at the market price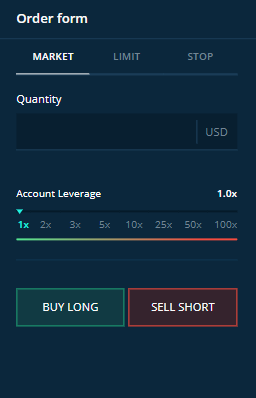 Limit order
A limit order is an order to buy long or sell short at a specific price. A buy long limit order has to have a price under the current market price of the asset. Likewise, for a sell short position, a price is set and once that price is reached, the sell position opens.
Enter the limit price you would like to open your position at.

Enter the amount of money you would like to open your position with.
Stop order
A stop order is a more complex limit order. Breaking it down, we end up with a Trigger price and a standard limit order. The trigger price is the price that triggers the limit order.
Enter the trigger price

Enter limit price

Enter quantity